Taking Action
Increasing Local Parks' Resources
On April 13, 2022, FODM Board member Carolyn Gamble testified before the Fairfax County Board of Supervisors urging these elected officials to increase funding for local parks in the fiscal year 2023 budget. She explained that county officials' decisions and what happens in local parks affect the larger environment, including the Dyke Marsh Wildlife Preserve.
To view her statement, click here.
Discouraging Single-use Plastics
On September 14, 2021, FODM submitted comments to the Fairfax County Board of Supervisors supporting a proposed fee on single-use plastic bags. The Board approved the proposal which will go into effect on January 1, 2022. Below are our comments submitted to the Board.
The Friends of Dyke Marsh urge the Board of Supervisors to approve a fee on certain disposable plastic bags, as proposed in the draft ordinance.
The Friends of Dyke Marsh (FODM) is a non-profit 501(c)(3) organization dedicated to preserving, protecting and restoring the Dyke Marsh Wildlife Preserve. Dyke Marsh is a 485-acre freshwater tidal wetland complex in Fairfax County on the Virginia shoreline of the Potomac River. The Potomac River is a major tributary of the Chesapeake Bay. Dyke Marsh is ecologically diverse, offering habitat for 300 known species of plants, 6,000 arthropods, 38 fish, 34 mammals, 16 reptiles, 14 amphibians, over 275 species of birds and at least 20,000 species of insects.
In our numerous trash cleanup events over many years, we have frequently found plastic debris, including plastic bags and plastic bag fragments within the preserve, at Belle Haven Park and along the Potomac shoreline. The standard grocery and convenience store plastic bags are flimsy and intended for single use. We believe that most are not recycled. Even when properly disposed of, for example, placed in a trash receptacle or recycled, this plastic waste can still make its way into woodlands, vegetated areas and local waterways. We have experienced wildlife getting into trash cans searching for food and spreading trash, including plastic bags, all around.
Microplastics Cause Harm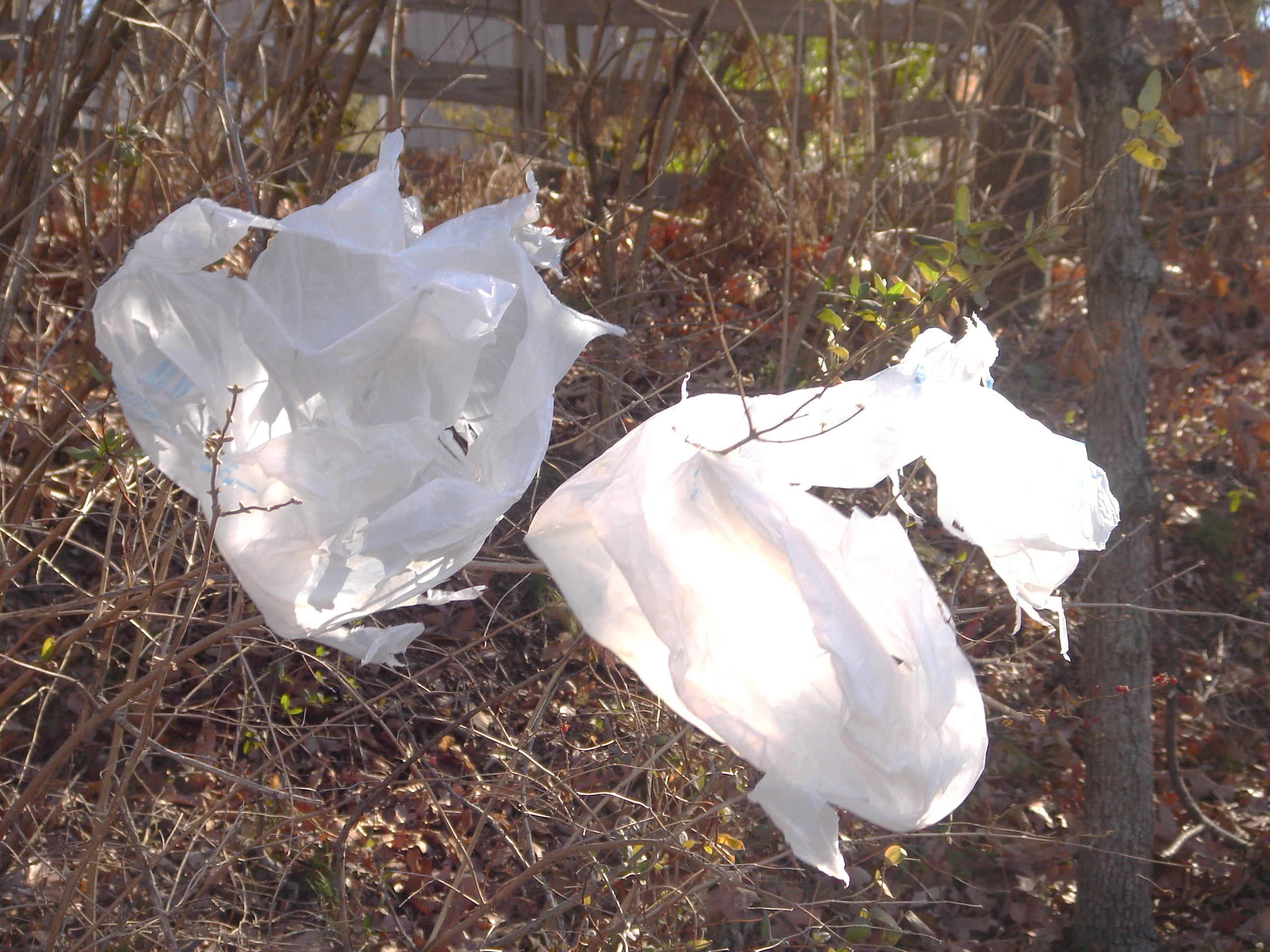 Plastics break down into smaller pieces called micro-plastics that infiltrate into the ecosystem and waterways. Micro-plastics continue to break down into such small pieces that they become impossible to completely remove, even during targeted cleanup events.
Wildlife, especially birds, turtles and fish, are particularly vulnerable to this plastic pollution. Micro-plastics are frequently ingested by wildlife: birds and fish often mistake them for food or may consume insects and worms that have ingested the plastics. Micro-plastics act as magnets for harmful pollutants and often become laden with chemicals, which are then passed along the food chain from insects and worms to birds and fish and, eventually, to humans.
In addition to the harmful chemicals, we know that when birds ingest these plastics, they can die by starvation because the plastic takes up space in their stomachs and makes the birds feel full of a material that does not break down or provide any nutritional value.
FODM has conducted Dyke Marsh breeding bird surveys for over 27 years, which highlight the presence of plastics and how birds interact with them. During the survey conducted between May and July in 2021, we identified nearly a dozen osprey nests and three bald eagle nests within the preserve. These nests had debris, including plastic bags and bag fragments, in them. Ospreys and their young can get entangled in these plastics, which can result in fatal outcomes.
Reduce Use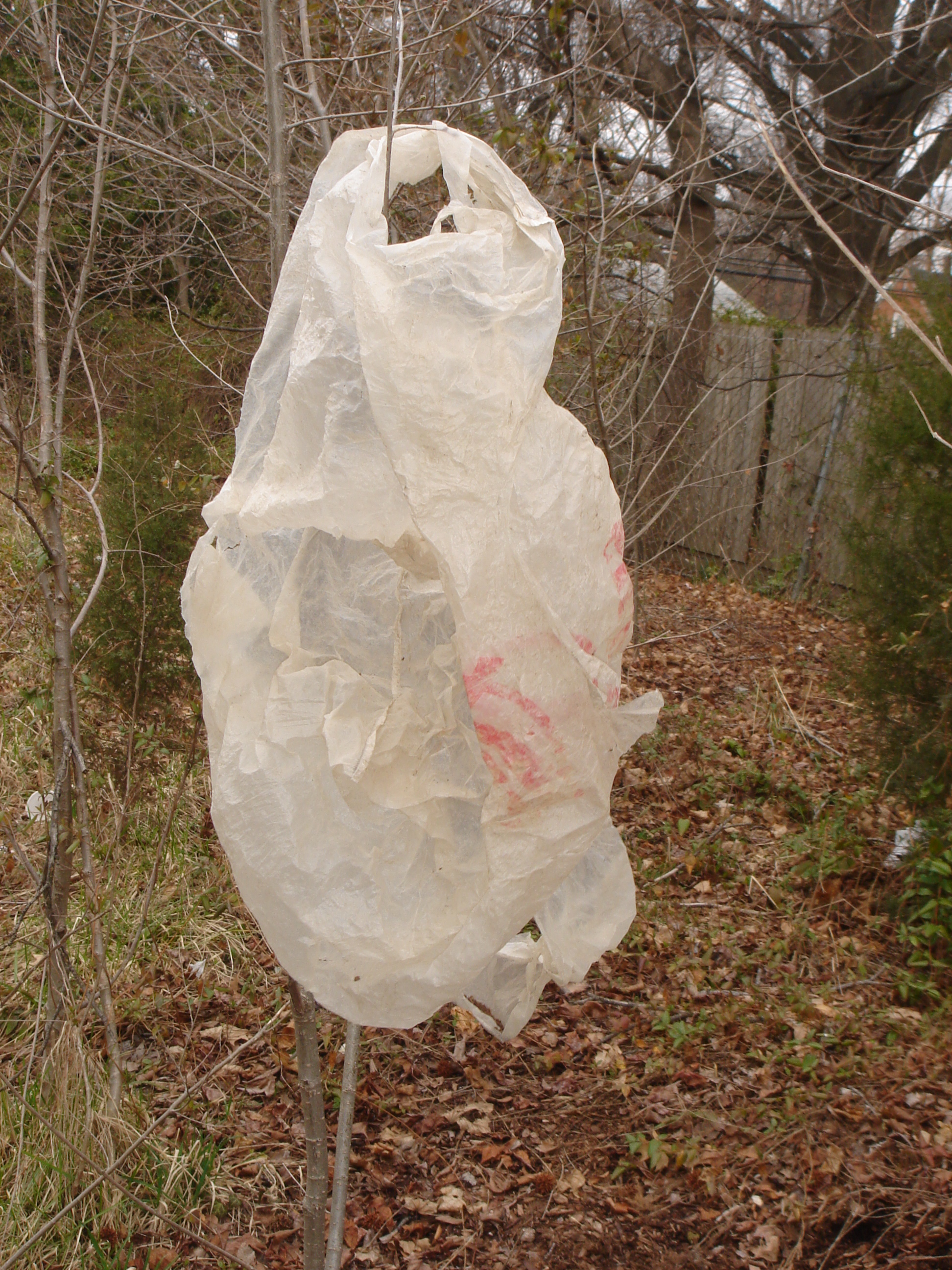 The only way to reduce the amount and harmful side effects of plastic debris in our ecosystem and local waterways is to reduce the amount of plastics produced and used. Creating ways to dispose of these plastics is only a band aid to a growing issue. Therefore, it is critical for our local, state and federal governments and elected officials to implement policy changes such as the proposed plastic bag fee.
Fees on single-use plastic bags in other localities and states have proven to raise awareness of their harm and to reduce their use and improper disposal. Bag fees in other areas have proven to reduce plastic bag trash, for example, in Washington, D.C.
These policy changes can help shape behavior and raise public awareness through educational and volunteer opportunities that can be funded through the collected revenue.
More Revenue
According to Census.gov and its July 2019 estimate, there are 1,147,532 residents living in Fairfax County. If half of these residents used one plastic bag during weekly trips to the grocery store, this would total 29,835,884 plastic bags used annually within the county – and this is a conservative estimate.
If this fee is enacted and Fairfax County residents still consume 29,835,884 plastic bags during the 2022 calendar year, at a collection rate of $0.03 per plastic bag, the county could receive $895,076.52 in revenue which the county could use to fund litter reduction and anti-littering education programs to increase public awareness of reducing environmental waste and mitigating litter pollution.
As Virginia Governor Ralph Northam has said, "It takes a village to be stewards of our environment and natural resources." Enacting the proposed disposable plastic bag fee is a critical, necessary and a long overdue step for Fairfax County, our residents and importantly, our natural resources. We believe that Fairfax County's residents want to be good stewards of the environment and to protect our precious natural resources on which we all depend.
Thank you for the opportunity to present our views and recommendations.
Sources:
Stemming the Trash Flood
Trash cans, trash traps, dumpsters and storm drain gutter guards may keep some trash out of Dyke Marsh and our waterways, but the real solution to the never-ending stream of trash is to stop generating it in the first place. On October 19, 2020, Zach Huntington, Clean Streams Program Manager for Clean Fairfax (www.cleanfairfax.org), conducted a briefing on the trash menace and possible solutions.
Solid waste collections are increasing in Northern Virginia. In fact, Fairfax County is the second largest trash collector among local jurisdictions in the United States. Republic, a company that services Fairfax County is the second largest hauler in the U.S. and their national average has increased by 30 percent this year. The county has seen a 40 percent increase in residential trash tonnage since last year and a 30 percent increase in curbside collection since the March 2020 onset of the coronavirus pandemic.
He described several litter prevention legislative solutions, including plastic bag fees, polystyrene bans, increasing litter taxes and extended producer responsibility. You can view the presentation here.
Some bills anticipated in the 2021 Virginia General Assembly are described on the Litter Free Virginia website, https://litterfreeva.org/legislation-tracker/. In addition to FODM, other organizations represented were the Porto Vecchio Waterfront Committee, the Audubon Society of Northern Virginia, Friends of Little Hunting Creek and the Friends of Accotink Creek.
FODM Weighed in on GWM Parkway Safety Study
The National Park Service (NPS) is conducting a safety study of the south segment of the George Washington Memorial Parkway. After a July 11, 2019 public meeting, NPS had a public comment period which ended on August 21. FODM submitted the following comments. Read here.
FODM on the Future of Claude Moore Farm Park, May 23, 2019
In 2019, the George Washington Memorial Parkway unit of the National Park Service is considering a concept plan for the Claude Moore Farm area of Turkey Run Park. FODM submitted the following comments on May 23, 2019 and stressed the importance of conducting a comprehensive biological inventory of the natural resources there and preserving conservation corridors.
FODM on the Future of Claude Moore Farm Park, October 26, 2019
On October 26, 2019 FODM submitted the following comments on the National Park Service's proposed three concepts for the former Claude Moore Farm area of Turkey Run Park.
Oxon Hill Farm
On June 25, 2019, FODM wrote to the National Park Service's (NPS) Acting Director, Mr. Dan Smith, and urged NPS not to develop Oxon Hill Cove National Park and Oxon Hill Farm, to preserve its biodiversity and not to trade it for land elsewhere. Read FODM's letter here.