President's Message
Spring 2019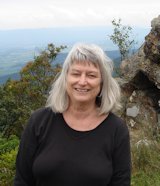 Glenda Booth
FODM President
Many FODMers and visitors are transfixed by the three active bald eagle (
Haliaeetus leucocephalus
) nests in Dyke Marsh this spring. Spring's renewal lifts the spirits and brings people outdoors. We send a big thank you to all who came out for our Raptor Rapture and trash cleanup events.
At a meeting of national parks friends' groups in March, Grand Teton National Park Superintendent David Vela inspired attendees by saying "people believe passionately in protecting our nation's most special places," and added that the "Park Service cannot do its job" without friends' groups.
Keeping Sewage Out of Waterways
Thank you, Virginia General Assembly for approving $25 million to help upgrade Alexandria's combined sewer system. This comes after local state legislators persuaded their colleagues to pass a bill, which Governor Ralph Northam signed, requiring the city to remediate the system by July 1, 2025. Alexandria's combined sewer system, dating to the late 1800s and largely in Old Town's 540-acres, collects both sanitary sewage and stormwater together. During most rain events, the stormwater-sewage mixture flows untreated into the Potomac River and Dyke Marsh. As early as 2013, FODM urged the city to develop a better system and stop polluting the river. We had a representative, Dixie Sommers, on their stakeholder committee. Finally, long-overdue action has begun.
Alarming Apocalypses
Warnings continue to come from the scientific community. A fungus called chytridiomycosis is contributing to the decline of at least 501 amphibian species, especially frogs, according to a March 28 article in Science. Some species have likely become extinct and many more could, the writers concluded. One author, Jonathan Kolby, warned, "We've never before had a single disease that had the power to make multiple species extinct on multiple continents, all at the same time."
"More than 40 percent of the world's insect species face possible extinction," reported the February 14 Washington Post summarizing a Biological Conservation Journal article. Calling it an "insect apocalypse," entomologist Michael S. Engel compared the declines to the game of Jenga: "You pull too many blocks from the tower, and it collapses. We remove one biological reserve here, we extirpate a series of species there, we pollute, we fragment, we introduce invasive species, all to the point of eventual catastrophe." It's all connected and our lives depend on insects' survival, he stressed. So think twice the next time you swat a bug. Hopefully, our native plant project can help a little. Send us photos of any insects you see there.
Get Outdoors
A February Aarhus University, Denmark, study, led by Kristine Engemann, measured vegetation around the childhood homes of nearly a million Danes born between 1985 and 2003.
"Children who grow up with greener surroundings have up to 55 percent less risk of developing various mental disorders later in life," including depression, eating disorders, anxiety and obsessive-compulsive disorder," the study concluded. Researchers adjusted for factors like a family history of mental illness or social disadvantage.
Ms. Engemann said, "There is increasing evidence that the natural environment plays a larger role for mental health than previously thought. Our study is important in giving us a better understanding of its importance across the broader population." The study did not attempt to explain why "green" bolsters mental health, but some speculate that green space filters unhealthy pollution, is calming, can relieve stress and provides exercise and socializing space. She urged urban planners to give more attention to green space. So, add to the Dyke Marsh Wildlife Preserve's other marvelous attributes, stress buster. Enjoy Dyke Marsh for your mental health!