President's Message
Fall 2016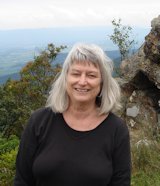 Glenda Booth
FODM President
An Imperiled Wetland
We are indeed honored by the 125 FODM members and friends and 16 local, state and federal government officials who attended our October 2 anniversary celebration at the American Horticultural Society on the Potomac River. I used the opportunity to again urge the National Park Service and the U.S. Corps of Engineers to accelerate the marsh's restoration. The U.S. Geological Survey (USGS) concluded that Dyke Marsh will be gone by 2035 without action.
Here is a refresher on the marsh's status based on USGS's 2010 study, a 2013 update and a 2014 paper, titled "Interagency Partnership to Assess and Restore a Degraded Urban Riverine Wetland: Dyke Marsh Wildlife Preserve, Virginia," authored by Brent W. Steury, Ronald J. Litwin, Erik T. Oberg, Joseph P. Smoot, Milan J. Pavich, Geoffrey Sanders and Vincent L. Santucci. Quotations are from the paper, posted here: https://www.georgewright.org/312steury.pdf.
Highlights: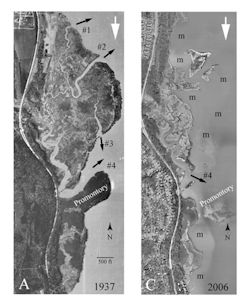 Removal of the promontary (shown in left figure) has been a major factor in the erosion of Dyke Marsh. Photo by NPS• "Dyke Marsh is the last large remnant of a series of once extensive and numerous tidal freshwater marshes that were lost to expanding development of the Washington area."
• "George Washington Memorial Parkway trails at the marsh receive more than 438,000 day-users (foot traffic) annually."
• The southern part of the marsh "probably had developed at this site by the Early Woodland Period (~2,200 BP, or late Holocene)." ". . . preliminary results suggest the presently observed dominance of narrow-leaf cattail in the Dyke Marsh wetland likely first developed <1,000 years ago."
• In 1974, the wetland was 83 acres in size; in 2014, it was approximately 50 acres.
• Dredging or mining destabilized the marsh, "causing persistent erosion, shoreline retreat and tidal channel widening. . . ."
• In 2013, shoreline erosion occurred "at a rate of 6-8 feet per year just prior to 2010, and is increasing. . . From 1976 to 2009, overall marsh acreage loss to erosion has increased from 0.3 acres per year to over 1.2 acres per year, and also is increasing. . . ."
• Commercial dredging removed a forested promontory immediately south of the marsh. Eliminating the promontory, "exposed the marsh to wave energy generated by episodic cyclonic storms (tropical storms and hurricanes) tracking upriver from the south. Removal of the promontory "enabled greater potential wave energy to be expended directly against the marsh's southern shoreface."
• Pre-dredging, wave energy was partly dissipated by the Potomac River's shallow western river bottom south of the wetland. The marsh was dredged to depths of 30 feet below mean low water in formerly shallow areas and in emergent wetland. The shallow water and the promontory served as erosion buffers, "causing larger waves to crest and to shoal well before reaching the marsh shoreface."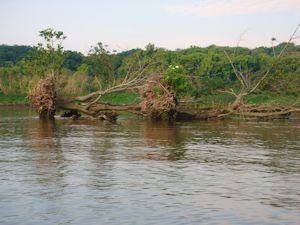 Fallen trees along the shoreline are one indication of erosion. Photo by Glenda Booth
• Non-storm conditions also contribute to continuing erosion. "Dredging altered the hydrology by destroying most of the tidal channel network that historically existed on the marsh . . . ." The tidal channel network "directed rising tides and their suspended sediments back into and onto the interior marsh surface through highly sinuous, dendritic and shallow tidal channels, dissipating that tidal energy, and consequently trapping that formerly suspended sediment onto the marsh surface with each successive tidal cycle." Currently, there is a "marsh-tide imbalance" and ". . . non-storm tidal energy is now slowly stripping sediment from the interior of the marsh and from its distributaries, rather than adding sediment, as would be predicted under undisturbed and balanced tidal marsh conditions."
• "The most desirable restoration scenario is to re-balance any natural depositional processes that enable Dyke Marsh to sustain itself in a resilient state," starting with replacement of the promontory.
• ". . . the remaining ~50 acres still provide valuable ecosystem services . . .," including acting as a storm buffer and providing "green space."
• "Dyke Marsh is a . . . significant migratory resource (and urban corridor habitat) along the Atlantic Flyway in the Mid-Atlantic Region."
Glenda C. Booth